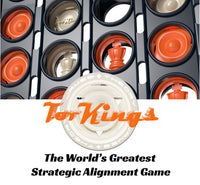 Much More Than Just Four In A Row
TorKings is the NEXT-GEN in Four In A Row style gaming - redesigned to truly engage and expand young and seasoned minds alike. Enjoy magic new performance from breakthrough feature packed hardware and play an exciting new range of improved game options for up to 6 players.
TorKings - Is your very best choice in quality, performance and gaming fun.
Self Sorting Tokens
Advanced and Super Enhanced: From it's cool new retro futuristic looks to it's amazing performance, TorKings is designer magic all the way. Like our iconic 3D Magic Smart Tokens that sort themselves and return back to you in a flash! Now everyone gets more game time, satisfaction and fun!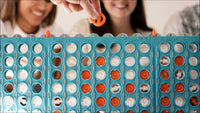 Modular = Gameplay Nirvana!
Bring-it, Join-it and Big-up the FUN!
Our modular game boards are designed to share and expand your game experience. Join up to 3 boards to play new games. Its a grand-new freedom that unleashes new rules, game dynamics and truly engaging play.
Play In Co-op Teams = Social IQ Dream!
There's even more action, interaction and fun when you join boards and play in teams. It's a true breakthrough for families and friends that builds your team's cooperative skills and social IQ with truly interactive fun!
3D Iconic Tokens
TorKings 3D Iconic Tokens are a revolution in visual accessibility, tactility and function. The new token diversity opens up excellent new game options options to match any skill level or age.
Shop Now
The New Games Revolution
The single game of Four In a Row / Align4 is fun for starters. But TorKings' new games breathe exciting new depth and dynamics into the genre. Whether you are on a single or multi-board there's a new range of cool game options to suit you and your crew. Even better - the new rules are still super simple so everyone can dive straight in!
Co-op Play - Performance Enhancing Tool
The new range of games finally allows players to move into more challenging game levels.
Players now have a choice of enhanced STEM games as well as Social IQ Building interactive Co-op Team Games.  Whether you are team building or mind building - TorKings is a highly accessible and diverse skill building tool wrapped in fun.
Spinners are Grinners
Spin-It: Spin the Orb token to time turns.
Select-It: Spin the Delta (pointer) token to make a random selector - like who's on your team.

Fidge-It: Clip any two tokens together to make cool spinners.
It's more fun whichever way you spin it!





Safety Focus
Sometimes tiny ones wander into the mix and that can be a stress for minders. The harsh reality from medical reports is that the minimum safe size is not fail-safe. With voids in their face and perimeter - TorKings tokens reduce risks by allowing airflow regardless of orientation in an airway.
Premium Journey
We've dug deep and broken though layers of design thinking to define a premium new standard for the genre.
There's an explosion in improved gameplay options and the new look, feel and performance is a treat in every sense.
Testimonials (scroll)
"It's so worth it. I just can't express how much quality is in each part - it's boggled my mates with it's production quality."

R. Warriner, New Zealand
"Thank you so much, I am finally back from Puerto Vallarta to pick these up and they are OUTSTANDING!! I cannot wait to get back home and play with friends and family! "

E. Kerker, Mexico
This is is by far one of the BEST KS projects I have backed! Thank you!

M. Bouyea, USA
"The game of choice for a more civilized age."

James T. , Australia
Feature Packed
TorKings is design Rich - there's loads more cool features to discover.